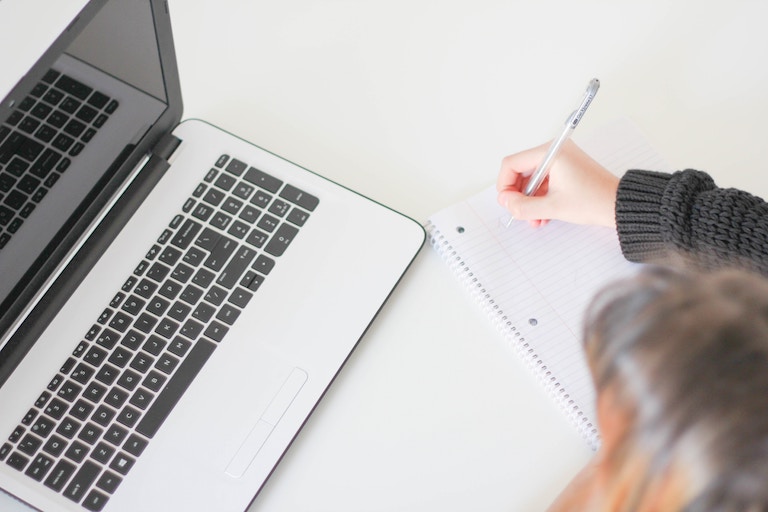 Dr. Kate Holterhoff is an Affiliated Researcher and Former Brittain Fellow at Georgia Tech. She is currently a Front-End Engineer at Nebo in Atlanta. This article originally appeared on Nebo's blog on January 25, 2019. Read the post at Nebo here. 
The humanities have become more and more digitally engaged and forward-looking, and I would know. I have been part of the academic community for the past 12 years, receiving my PhD from Carnegie Mellon University in literary and cultural studies, and teaching courses ranging from English composition, to literary studies, to critical theory, and even art history. I've also taught at numerous schools that include State universities and private R1 institutions as well as small liberal arts colleges. These experiences have convinced me that engaging critically with culture requires cultivating a robust relationship with technology. It also led me to shift from an academic to an engineering career.
Teaching and Technology
About six years ago I co-founded the digital archive visualhaggard.org with Joe Essey, a Ruby on Rails developer. Visual Haggard is a peer reviewed literary and art historical resource which contextualizes and improves access to over 2,000 illustrations created to accompany the novels of Victorian author H. Rider Haggard. Rider Haggard wrote over 50 novels in the adventure fiction genre, and he is responsible for inventing the Indiana Jones-style archaeologist adventurer in books like King Solomon's Mines (1885) and She (1887). Although relatively obscure today, the majority of Haggard's novels were lushly illustrated, many of them repeated in different editions and by different illustrators. Visual Haggard seeks to revalue the illustrations of Haggard's novels as unique artworks and texts for contemporary audiences by making them freely accessible online.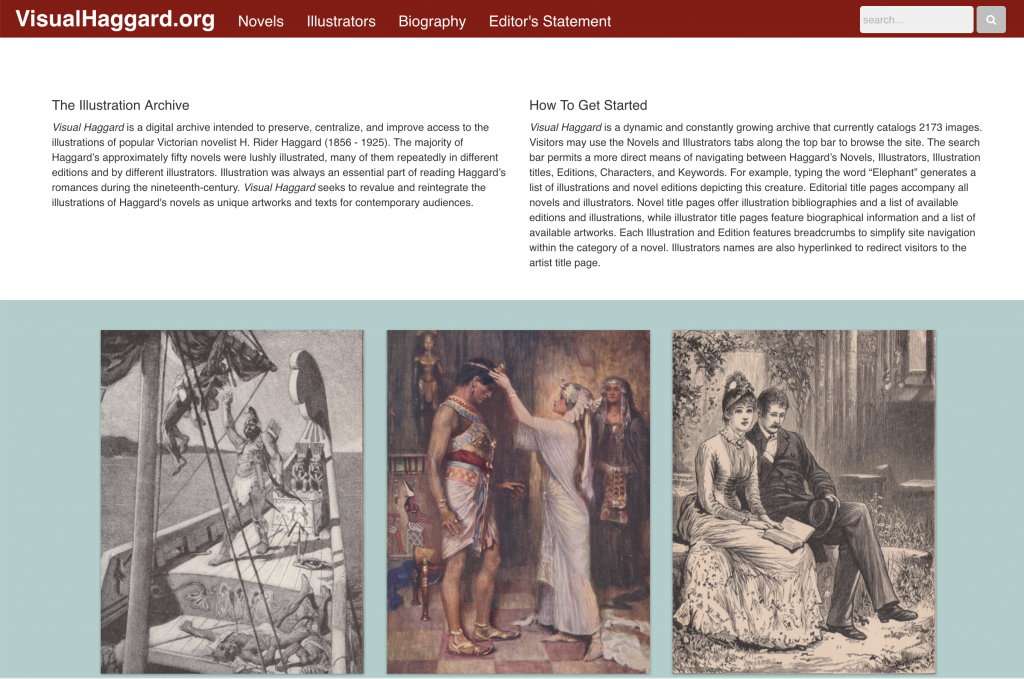 My involvement with this archive made digital tools central to my teaching and research. I have written about the scholarly merits of this site, but I also used it consistently in my classroom. Most importantly Visual Haggard set me on the path to becoming a web developer. This archive introduced me to app development, website design and managing digital projects, which not only whetted my appetite to become more fully involved in the technology field, it also spurred me to new ways of thinking. Perhaps the most enduring lesson I absorbed was the necessity of learning how to program. I was done being just a digital user, and ready to become a maker. As Marshall McLuhan says, "The medium is the message," and I quickly realized I could not truly leverage my interest in technology without becoming a more proficient developer.
Becoming a Developer
In 2018 I decided to go all-in with software development. Although I still worked full-time at Georgia Tech teaching three sections of first-year English courses, on nights and weekends I learned how to code. I cycled through numerous Javascript, React, and Bootstrap tutorials to flesh out my GitHub portfolio. Because learning code is always better in groups, I also spearheaded a Python working group with several colleagues at Georgia Tech. I made websites for friends and family. Most importantly, after all of these projects, I became more and more certain that web development was something I wanted to do full-time.
My journey was not without hiccups. I was often discouraged by the seemingly overwhelming task of learning how to program. Once, when a feature in my app failed to work (as they often did) I exited out of my app, and refused to open a text editor again for several weeks. I'm embarrassed to admit that my road to programming is paved with broken and half-completed projects. But all of these setbacks and failures have been valuable educational opportunities for me. Friends and family encouraged me not to give up, and with their support, eventually, I learned enough to create a decent portfolio.
Internship at Nebo
It wasn't until this summer that I felt prepared to apply for positions in the technology field. I was fortunate enough to secure a web developer internship at Nebo in the Fall, which converted to a permanent position on the engineering team this month. The internship program at Nebo has provided an ideal opportunity for me to make the final jump from a profession in education to one in web development. As a junior engineer, I still have a lot to learn, but joining a team of talented coders has helped tremendously. For instance, by attending weekly meetings, this internship has taught me much about the ins and outs of a high-functioning team of programmers. In addition, once or twice a week, I have benefitted from shadowing Nile Livingston, one of Nebo's most experienced front-end engineers. Learning first-hand from professionals has pushed me to be better, and it has provided me with the resources necessary to make this goal a reality.
The lessons I have taken away from my internship experience at Nebo are legion, but I would urge any aspiring developers to lean on their interests and experience in order to make this field accessible and meaningful. There are so many ways to become more engaged with technology, but you must make it your own. And today is a great time to start.
Share articles with your friends or follow us on Twitter!