When modernist poet William Carlos Williams antagonistically announced, "To me all sonnets say the same thing of no importance. What does it matter what the line 'says'?", I wonder whether or not he'd approve of poet and punk rock singer Matt Hart playfully directing students to arrange and rearrange pieces of trash with language on them into a sprawling visual-sculptural "sonnet" in the middle of a classroom floor? Isn't this precisely what Williams means when he describes a poem as "a small (or large) machine made out of words," a sonnet whose lines have "a physical more than a literary character"? Regardless of Williams's taste for the riotous materiality of these students' work (I tend to think he'd be delighted), emphasizing that poems are made, built, assembled, and arranged–not simply inspired products of a literary muse–is a central part of my pedagogical approach to teaching poetry at Georgia Tech. Our students are training to be mechanical engineers, computer scientists, and music technology professionals. Framing creative, literary processes as pattern-based rather than formulaic, physical and material rather than only abstract, and emphasizing design and sound over concepts like beauty and profundity, allows students the opportunity to become active participants in poetry-making. Like their Dada predecessors, pulling newspaper clippings out of a hat, students become artists through a conceptual process that deemphasizes potentially intimidating literary models for the sake of chance and its generative potentials.
I like teaching sonnets because most first-year students have heard of the form before–they know it has something to do with Shakespeare, it sounds literary and intellectually enigmatic, maybe it has to do with love, they have 14 lines and rhyme, right? To be able to affirm and then throw these expectations out the window by teaching them poems by Lisa Jarnot, Ted Berrigan, and Hart is a continual pleasure. In my first-year writing course, "The Archive and the Feed," students had been exploring the digital and material ways that information, culture, and meaning are identified, stored, and circulated. One of their major assignments was to produce a creative map of Atlanta–an investigation of cartography as a kind of living archive–which had them doing research and field work, resulting in maps that tracked a variety of topics: the architectural history of Georgia Tech's campus, sexual assault reporting, and income inequality, among others. One of the central processes in mapmaking is identifying the repetitions and variations in complex patterns, so throughout the semester students had been reading poems as ways to think about pattern building. I offered Jarnot's ecstatic litany "Song of the Chinchilla" as an archive of the word "chinchilla": an imaginative inventory of the word's sonic, associational, and representational potentials. We read a selection from Berrigan's Sonnets to discuss how phrases can be repeated and varied across a sequence, and how the language in a poem can be found nearly anywhere. I encouraged students to see language as a material substance, something to touch and move around both as readers and writers. Like in any experiment, one has to collaborate with and test the materials being used.
When Hart visited Georgia Tech to perform for the Poetry@Tech reading series, his guest lecture in our course coincided with a set of field work exercises students were completing for their maps. Hart's own sonnet sequences, like Jarnot's and Berrigan's, are part lyric collage, part linguistic construction zone, part musical frenzy. His presence in class was an opportunity to physically collect and build a sonnet. In a previous class session, I had printed out blank campus maps of the areas directly around our classroom buildings and asked students to spend a class session discovering something to map in that space. My suggestions were intended to push their conception of what is mappable. I said, for example, to map a color, the distribution of light, or the number of steps you see people taking as they move around the area. What could you find out, I asked, by mapping these things? During the exercise, I mapped all of the appearances of written text that I could find in proximity to the Hall Building–text on sewer grates, electrical covers, signs, and pieces of trash. I found a lot of language on the trash. Simultaneously, a clever student made their in-class map by mapping my movements as I made my language map. We were already metacartographers.
After realizing how much language could be found on pieces of litter around campus, I designed an assignment to collect and utilize all of that stray, discarded text. Since we were reading Hart's 14-section poem, "Sonnet," a head-rush of found phrases, lyrical repetitions and mutations, and careening music–"All of it stolen (lovingly)," as the poem describes–students would each collect three pieces of garbage that had text on it during their walks to class. Aside from the immediate environmental impact of 75 students collecting nearly 200 pieces of litter on campus, this trash archive of daily language would give us a visual and textual catalog to produce our own experimental sonnets from. After collecting their trash as literary dumpster divers, students mapped the locations where they picked up the garbage into Google Maps, transcribing the text from the pieces of trash into the map. The data tables for each color-coded course section include the complete raw text of our trash language archive. Most of the language is purely utilitarian–brand names and ingredient lists on candy wrappers (it was just a few days after Halloween), the textual data of receipts, and other descriptive ephemera of consumerism. Some of the litter's text had more of an aesthetic pop, like a ripped piece of yellow caution tape or a shipping invoice that described the sent item as "Architectural Neon Black Silk Graphics Custom Fab." In pairs, students then used their found language to build their own sonnets–an open-ended directive to assemble a sonnet-like poem of any nature–while adding in some "new" language, too. Here's a sonnet by first-year student Scott Chambliss and a collaborator: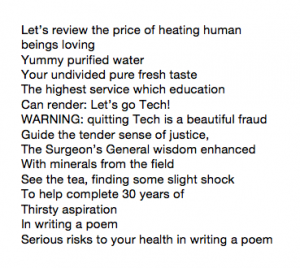 Beginning with a quizzical pedagogical announcement that dives into seeming non-sequiturs, the poem swivels tonally across a fragmented narrative of science, education, and health. One can feel the odd unevenness of the collaged pieces and start to guess at the sources for some of this language, such as a pack of cigarettes, or a plastic bottle of water. But there's a pleasurable unity to this poem that establishes itself through a series of repetitions–"purified"/"pure", "Let's go Tech!"/"quitting Tech", "30"/"Thirsty", and the self-reflexive doubling of "in writing a poem" in the final two lines. There seems to be a healthy danger in this play with language as text begins to mix with the elements, "purified water" and "minerals from the field," making a kind of "tea, finding some slight shock." Before the poem arrives at its final prescription, we get the wonderful, enigmatic lines "Guide the tender sense of justice, / The Surgeon's General wisdom enhanced," which make the nation's top doctor sound like an angelic guru. But what are these "serious risks to your health" that come with "writing a poem"? What are we to make of this warning when we consider that this poem actually hasn't been "written," but rather, has been made? It turns out there's a clever play in this last line. It's not that poems are risks to our health, as we might first think; it's that writing poems poses a danger. On the other hand, making a poem is a spirited, smart rush of feeling. "Let's go Tech!" indeed.
What this poem shows us is the subtle magic of contingency, how fragments arranged in the light of a particular attention begin to meld into a narrative landscape. I remember these two students surprising themselves as they assembled this poem, laughing as they turned an unexpected line and accumulated images they had a feeling for rather than an understanding of. How long did it take them to build this sonnet? Probably about 10 or 12 minutes. Why not waste time having fun? Similarly, why not let everyone's found language mingle together? With our garbage quickly becoming imaginative fodder, it only seemed appropriate to lay it all out on the floor in its original form. As you can see in the student video below, Hart brought a similarly fast-paced and chance-based, collaborative pedagogical approach to the students' arrangement of the trash into a sonnet, asking students to arrange and rearrange the pieces into lines based on a range of specifications like color, size, and type. Since most of the garbage had a lot of different text on it, the pieces couldn't function like individual words in a poem, so these collective sonnets became something else–but what? They certainly weren't unreadable. On the contrary, they offered innumerable readings, as Hart read over the lines by picking different words and phrases from each piece in different combinations, similar to how his own poems juggle and echo shards of sound. Not merely textual, these multimodal material poems were sculptural catalogs of daily ephemera, an archive of collegial garbage, and maps of material waste. Many students assumed they wouldn't even be able to find three pieces of litter on their way to class, so looking at the map of trash around campus, they were surprised at the sheer amount of garbage that had been collected. Other students argued about which section of campus had more litter: East Campus or West. They found themselves suddenly hyperaware of how much stray, unseen, or unacknowledged language is constantly present around them in any given environment.
Rather than inert, meaningless text, this language now had the potential to coalesce, to make things happen, and to describe ideas they didn't know they could have. As well as first-year writers experimenting with collage aesthetics and conceptual mapping, they became collectors, one-off environmental advocates, archivists of dailiness, and–alongside Hart–poets. Most importantly, students were finding out how writing is always a process of building, arrangement, and rearrangement. This awareness of process not only dispels common myths about natural eloquence or the more common trope of "not knowing what to say." It tests how communication is always already functioning across modalities, calling on visual, aural, oral, and nonverbal strategies and awareness. "Just another day in English class" had started to mean something entirely new.
Works Cited
Hart, Matt. Light-Headed. BlazeVOX Books, 2011.
Williams, William Carlos. "Introduction to The Wedge." Poetry Foundation, https://www.poetryfoundation.org/articles/69410/introduction-to-the-wedge.
Share articles with your friends or follow us on Twitter!