The Writing and Communication Program has an ongoing initiative to provide mentoring to first year post-doctorates looking to further professionalize as they make their way to full time positions. As a new Brittain Fellow, I – Peter Fontaine – was paired with LMC faculty member, Dr. Krystina Madej. I had been both a mentor and mentee as a graduate teaching assistant and student, but being paired with Krystina was a unique opportunity to go beyond by receiving valuable insight and guidance from an experienced, established professor. Pursuing a shared interest and value in mentoring as a process, we embarked on a project in which we conversed about mentoring, how we defined it, what our opportunities were for our given context at Georgia Tech, and what we could accomplish by collaborating together.
 What follows is a chart designed to outline our collaboration. The chart begins by outlining our interaction in the months leading up to Krystina's proposal of a collaborative article to TECHStyle. From there we devised a dialogue where our two perspectives are recorded individually and then put into conversation during a series of meetings through the month of February. My perspective, in my own words, is relegated to the left column, while Krystina's thoughts are collected in the right column. We took turns taking dictation during collaborative meetings; the summaries of our conversations appear in the middle column. The use of white space shows the time intervals before our individual perspectives are put into the conversation (illustrated by the text in the left and right columns "feeding into" the text of the center column), and when we started with our dialogue, that then prompted new individual responses (illustrated by the text of the center column "branching off" into text in the left and right columns). You can see our whole process here: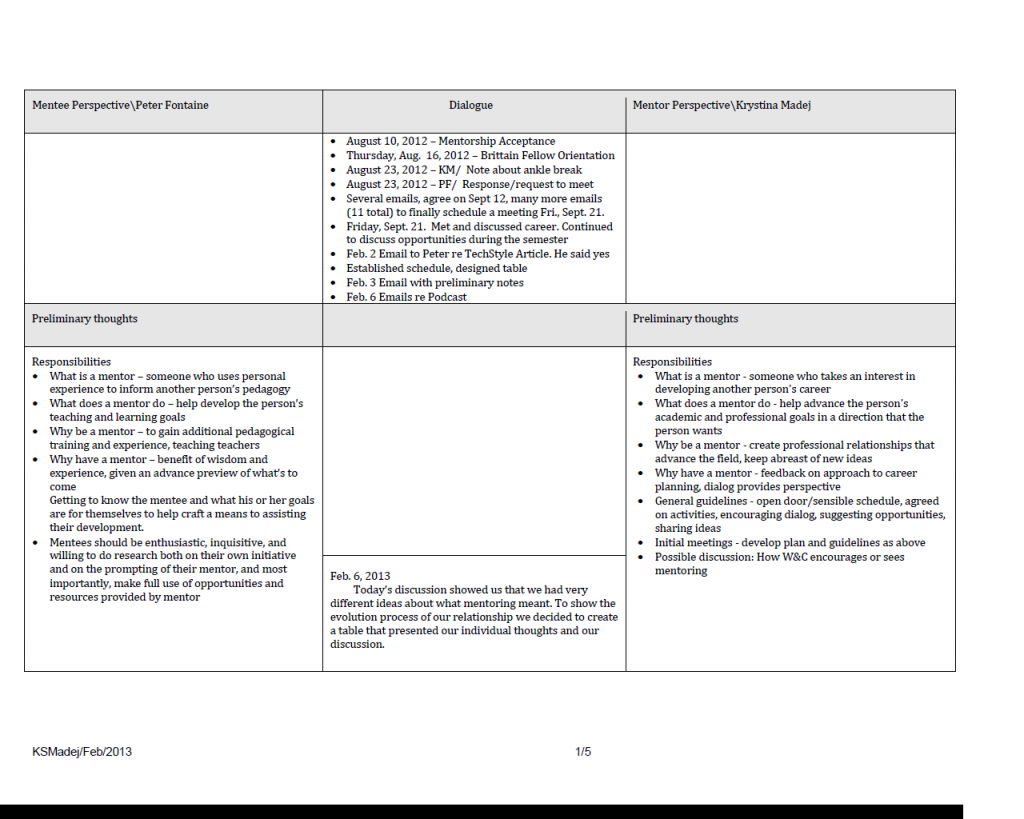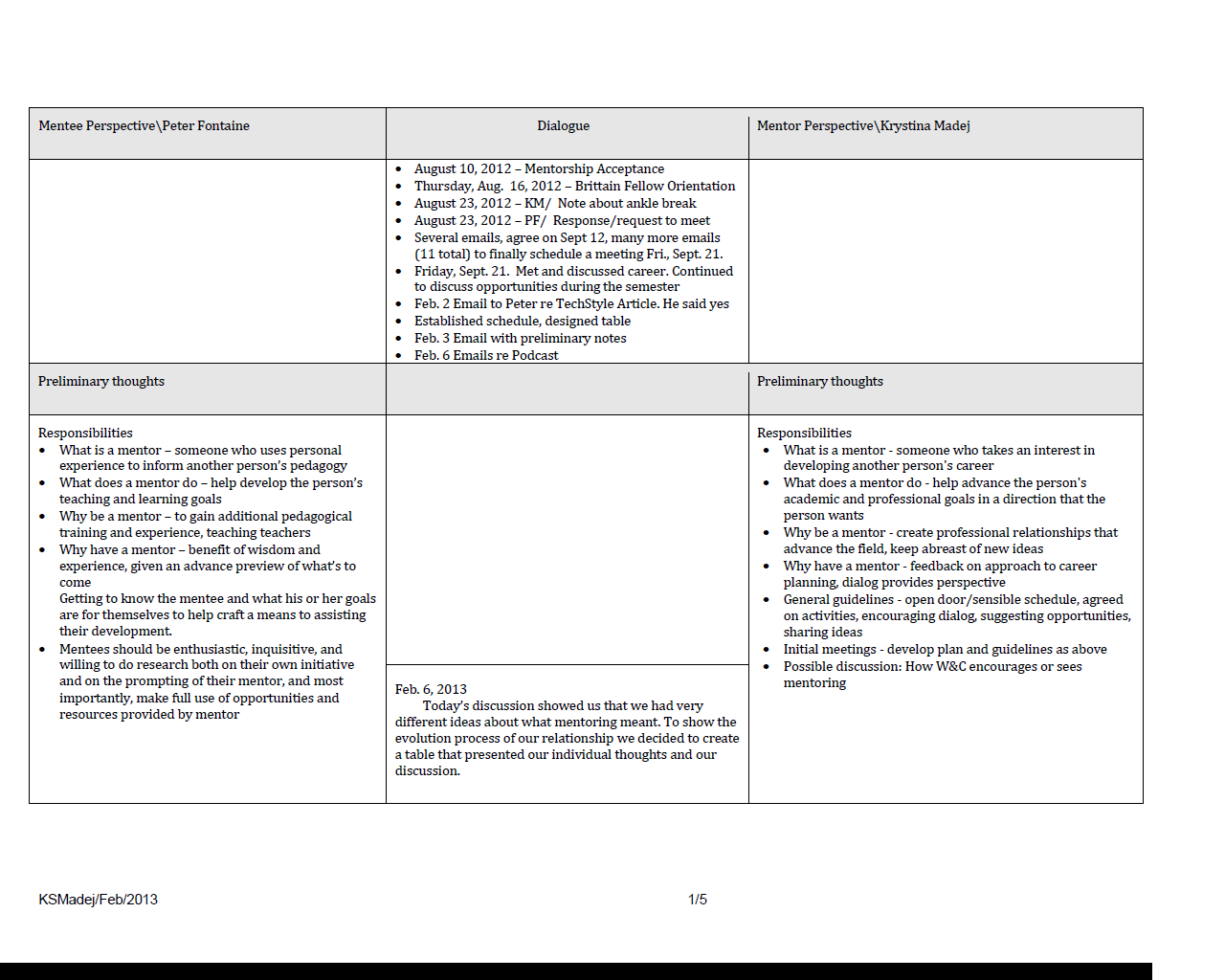 Click the link above to access the full chart in a PDF
 The chart itself is representative of the give and take Krystina and I have enjoyed through the mentoring process. Her suggestions for this collaboration got us started; my flexibility and willingness to meet regularly to engage in a joint writing process helped create the necessary material. Both of us wrote our own column and shared writing the dialogue. Our discussions eventually pointed us to potential opportunities within the Writing and Communication Program to further develop the mentoring relationship between first year Brittain Fellows and LMC Faculty. These opportunities include more formalized introduction and interaction among Brittain Fellows and their mentors, providing clearer incentivized collaboration between Brittain Fellows and their mentors, and providing a uniform model with resources (ideally built from this collaboration). Through the presentation and eventual adoption of these ideas we hope to enhance the results from pairing new Brittain Fellows with faculty mentors, insuring a more productive and beneficial relationship for everyone involved. With further research we will carry this idea further in a poster session, in a conference submission, and by crafting a dialogue for podcast.
Share articles with your friends or follow us on Twitter!