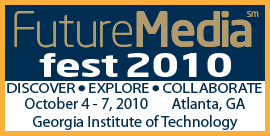 How can crowdsourcing and social media applications be used to provide more personalization over media content?
That was the focus of the Startup and Reception Technology Showcase, which featured several new companies exploring the odd middle-ground between collaboration, control and privacy. And while many of the companies featured in the showcase created products geared towards advertising and marketing, small modifications in software could also provide new opportunities for pedagogy and teaching. I'll list a few of these new startup groups before giving a short reflection on the opportunities and dangers implied in their products and their use in teaching pedagogy.
Many of these technologies represent new attempts to personalize commercial products and provide consumers more choices when looking for something specific. However, they also represent unprecedented incursions into individual privacy. For example, Cardlytics, a program devoted to giving consumers coupons with discounts that are linked to their debit cards, uses information on purchases from your online bank account to determine what products you buy and how much you spend on them. Cardlytics are implemented by individual banks looking to recoup losses after the changes made by the recent Federal Financial Regulation Legislation. They provide consumers with targeted and personalized coupons. Consumers have to opt-out of the program if they do not want corporations to have access to their purchasing information.
Despite the privacy issues that emerge with several of these social media applications, they can also provide new opportunities for teaching. The technology that drives Swyzzle could also be implemented to markup video for grading student films, or to add important historical, technological or biographical information in an "Introduction to Film" class. The programming that powers Stronico could also be used to create historical maps showing the ways different historical figures, events, ideas, and technologies relate to one another. Finally, it would be interesting to envision an academic version of Likeminds, where graduate students and faculty suggest new avenues of research.
The Startup and Reception Showcase only underlined the promises and the perils of the social media era. While the attention to personalization provides powerful new forms of online collaboration, no one seemed too interested in maintaining pre-Facebook levels of privacy for their clients or users.
Share articles with your friends or follow us on Twitter!