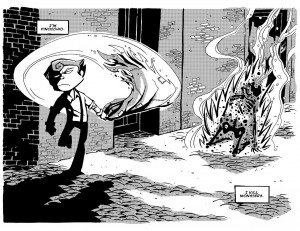 On Saturday, April 9, Georgia Tech's Writing and Communication Program, The University of Florida English Department, ImageTexT: Interdisciplinary Comics Studies, and Xerographics Print and Copy Center present the First Annual Atlanta Comics Symposium. The symposium will feature Brittain Fellows, faculty from Georgia State University and the University of Florida, Georgia Tech undergrads and Atlanta comic artists.
The overarching theme of the first comics symposium is multimodality. Comics have always been considered a multimodal genre, combining as they do the "sequential" visual language of comic panels with written forms of communication. In the beginning of the twenty-first century, however, comics are also becoming more and more enmeshed in an increasingly multimedia world. Both Marvel and DC are now run by multimedia corporations: Disney and Time-Warner respectively. Furthermore, dwindling sales are forcing comic artists to adopt digital mediums to distribute their work more widely. This first symposium will ask how changes in technology have and are impacting the identity of comics and graphic novels. Presenters discuss how comics relate to film, video games, radio, photojournalism, writing, and medieval illuminated printing.
[flickr float="right"]http://www.flickr.com/photos/rogerwhitson/5581531637/[/flickr]
Schedule
8:00-9:15 Comics and Other Media
Brandy Blake (Georgia Tech) – "How Media Changes the Monster: V for Vendetta from Text to Film"
Ted Friedman (Georgia State University) – "Comics as Myth: How Warren Ellis Rewrites Pulp Archetypes"
Aaron Kashtan (University of Florida) – "Okamiden"
9:30-10:45 "We Don't Kill the Living": A Roundtable on Robert Kirkman's The Walking Dead
L. Andrew Cooper (Georgia Tech)
Thomas Lolis (Georgia Tech)
Jesse Stommel (Georgia Tech)
11:00-12:00 Lunch (On Your Own)
12:15-1:30 Creating Comics in the Writing Classroom (Roger Whitson, Chair)
Justis Blasco and Erin McPherson – "The Adventures of Captain Victorious Across Time and Space"
Alex Kessler and Danny Ji – "Fighting Fate"
Heather Yutko – "The Little Siren"
1:45-3:00 Atlanta Comics Creators: "Supervillains, Poverty, and the Perils of a Career in Comics"
Van Jensen – Writer of Pinocchio The Vampire Slayer
Andy Runton – Writer and Aritst of Owly
3:15-4:30 Comics and War
Anthony Coman (University of Florida) – "Framing Perspective in the Art of WAR FIX"
Kellie Meyer (Georgia Tech) – "Medieval Nostalgia: The Warrior Code in Northlanders and Early Medieval Poetry and Prose"
Nirmal Trivedi (Georgia Tech) – "A Reluctant Foreign Correspondent No More: The Case of Joe Sacco's Footnotes in Gaza
5:00-7:00 Keynote Speaker – Tony Harris, artist of Starman, Ex Machina, War Heroes, and Spiderman: With Great Power

Google Map of DM Smith Building (685 Cherry Street NW, Atlanta, GA 30313) on the Georgia Tech Campus: Zoom in to See the Building.
[map w="500″ h="400″ maptype"SATELLITE"
address="685 Cherry Street NW, Atlanta GA 30313″ marker="yes"]
Share articles with your friends or follow us on Twitter!