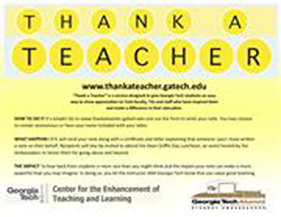 March 17 was Celebrating Teaching Day at Georgia Tech. As part of the festivities, a number of Brittain Fellows presented posters of their successful approaches to improving student learning. Those whose work was displayed included Doris Bremm, Kathryn Crowther, Andrew Famiglietti, Jo Anne Harris, Robert LeBlanc, Jennifer Parrott, Paulette Richards, Malavika Shetty, and Roger Whitson.
In addition, at the luncheon that followed the resource fair and poster display, nine Brittain Fellows were honored for their dedication to teaching with "Thank a Teacher" citations. The Center for the Enhancement of Teaching and Learning (CETL) sponsors the Thank a Teacher program, which allows students to "show [their] appreciation to individuals who have made a difference in their education…. By encouraging students to recognize teachers who are making a difference in their education, CETL hopes to continue to strengthen the learning environment at Georgia Tech by connecting instructional staff with the kudos they deserve." Recipient-Brittains included: Robert Blaskiewicz, Leigh Dillard, Diane Jakacki, Crystal Lake, Thomas Lolis, Irene Middleton, Michelle Miles, Jennifer Parrott, and Malavika Shetty.
Congratulations to all!
Share articles with your friends or follow us on Twitter!