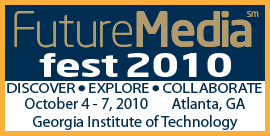 During the week of October 4, Georgia Tech will play host to Future Media Fest, a conference that bills itself as "an interactive mash-up of talent, ideas, trends and technology." This event promises to provide a glimpse at some emerging technologies and social formations involving digital media, including social media, distributed content creation, digital games, and augmented reality. In addition, it will be an interesting window into the minds of some of the technologists, researchers and business people working on these technologies. In short, a great opportunity to do some good thinking about how technology, media and culture are changing together… maybe even some first draft sociology of science and technology! Look for blog posts in the coming days from the following TECHStyle bloggers:
Andy Famiglietti will be covering the political economy of media technology, and especially the emerging relationship between media "prosumers" and media companies.
Roger Whitson will be covering the attitude of media producers towards emerging forms of collective intelligence in social media and augmented reality formats.
Leeann Hunter will be covering the future of business and advertising amid developments in collaborative consumption, social media, and digital technologies.
Chris Ritter will cover trends and forecasts in educational uses of digital games, virtual worlds, and augmented reality programs.
Share articles with your friends or follow us on Twitter!