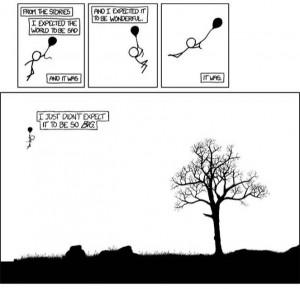 This weekend I participated in a panel on "Teaching Multimodal Literacy with Comics" at DragonCon here in Atlanta. The panel was part of the Comics and Popular Culture Conference which is held concurrently with DragonCon. Other panelists included my Brittain Fellow colleague Noah Mass and Andy Runton, an Eisner Award-winning cartoonist who is also a Georgia Tech alumnus. Current Brittain Fellow Jennifer Orth-Veillon was also supposed to be on the panel but was unable to attend due to unforeseeable circumstances. Others who were going to attend, but were unable to do so, included former Brittain Fellow Katherine Tanski, Georgia Tech Alumni Magazine editor Van Jensen, and College of Coastal Georgia professor Jason Tondro. The panel was conducted as a roundtable discussion with audience participation. Overall I felt this panel was a success. Even though it was held on Monday at 2:30, right at the end of the convention, we had an audience of 20 to 30 people, and the discussion was conducted at a very high level.
One of the reasons this panel was effective was because each of us on the panel came from a different background and had a different approach to comics pedagogy. I mostly have experience with comics from a fan and academic perspective. I'm a lifelong comics fan, I've been studying comics for my entire academic career, and I incorporate comics in every course I teach. Noah has been involved in comics professionally as an editor at Last Gasp, which publishes the work of R. Crumb and other underground cartoonists. His academic work, however, has mostly focused on southern literature rather than comics, and he only started teaching comics quite recently. He began the panel by discussing the way his professional experience has affected his comics pedagogy. Finally, Andy is involved in comics as a creator. He said that he got interested in comics because he himself struggled with literacy as a child, and he found it easier to relate to comics than to traditional prose texts. In his professional career, he has specialized in wordless comics – such as his award-winning series Owly – and he has found such comics to be highly appealing to children having difficulties with reading.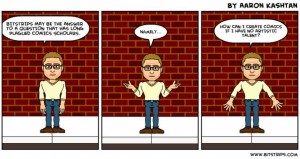 I have a background in both literary studies and comics studies, and one point that I made sure to make is that comics are not just literary texts with added illustrations. The comics that have made the biggest impact in the American academy – Maus, Persepolis and Fun Home in particular – are often quite "literary" in terms of their themes and their level of seriousness, and they often belong to established literary genres, particularly memoir and autobiography. I don't know if I said this on the panel, but I think this is partly why teachers of literature find these particular texts easy to use. Still, I think that teachers need to remember that in comics the images are as important as the text, and the images and text cannot be viewed separately; they represent two parts of a single whole. Jennifer Orth-Veillon's perspective would have been interesting here. Her experience is mostly with teaching literature, and I would have liked to hear her perspective on the sorts of paradigm shifts she had to make in order to incorporate comics into her class on veterans' narratives. I also talked briefly about how I've used tools like Bitstrips, Pixton and Comic Life to enable students to actually make their own comics. As I argued in a presentation at this summer's Comic-Con, I think comics can be an effective tool for students to write with as well as about.
We had a lot of good questions from the audience. I don't remember everything that came up in the discussion, but I do recall one exchange in particular. Two women in the audience, both of whom were graduate students in composition, expressed concern about whether they knew enough about comics to be able to use comics in their classes. My co-panelists and I suggested that it's not necessary to know everything about comics in order to teach comics, and that one can acquire the necessary competence by reading books like Scott McCloud's Understanding Comics and Jessica Abel and Matt Madden's Drawing Words and Writing Pictures.
Again, I was overall quite happy with the outcome of the panel and I would be excited by the opportunity to present at DragonCon again. One of the things I love about comics studies is that it offers opportunities for this sort of cross-disciplinary collaboration between scholars, publishers and creators.
Share articles with your friends or follow us on Twitter!