On February 7, student artwork created in the Institute's first-year writing and communication courses (English 1101/1102) and other communication-related LMC courses was featured at Georgia Tech Night at the Woodruff Arts Center.  This exhibition, organized by the Writing and Communication Program's Arts Initiatives Committee, previewed select digital artifacts from this year's second annual Student View exhibit, which will run in March and April at the Ferst Center Galleries.
The Student View preview was featured in the main venue where the Georgia Tech Night reception took place.  Over 300 students attended this program, and all visitors had the opportunity to see our digital display.  In addition to being the only exhibit in the reception venue, the Student View projection also became a backdrop for the night's opening ceremony.  President G.P. "Bud" Peterson spoke about the importance of art for the entire GT community, and Dr. William Schafer, Vice President for Student Affairs, pointed to the Student View exhibit as a reminder that in addition to excelling in science and technology GT students are also gifted artists and creative thinkers.   Arts Initiatives Chair Doris Bremm was also a featured speaker, introducing the Student View exhibit and describing the value of the arts in the Writing and Communication Program's WOVEN (written, oral, visual, electronic, nonverbal) curriculum.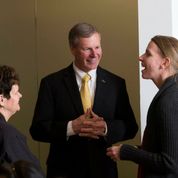 This exhibition marks the second year that the Arts Initiatives Committee has collaborated with the Woodruff Arts Center.  This type of program is unique to Georgia Tech.  To our knowledge, no other school in the country exhibits student art created in Writing and Communication Program classes in a city's premier art gallery.
The Student View exhibit at the Woodruff Arts Center was only a preview of the larger exhibition that will debut in the Ferst Center Galleries on campus in early March and will be on display throughout the months of March and April.  Importantly, Student View will coincide with the campus-wide celebration of the arts, the TechArts Festival on April 11-13.  At this event, in addition to the digital artifacts showcased at Georgia Tech Night, attendees will also be able to see 2-dimensional, 3-dimensional, and video artwork.  The student-produced multimodal artifacts that will be on display include posters, collages, photo essays, Prezi and PowerPoint presentations, websites, videos, and songs.
(Pictures: Doris Bremm, Patrick McHenry, and Jeff Roffman)
Share articles with your friends or follow us on Twitter!