To cap off my introductory week with my new 1102 students I decided to do a field trip. The general trajectory of my first week was a sort of "show not tell" conceptual introduction to the course (with the incredibly important yet always boring syllabus day in the middle).
In order to introduce course concepts we watched and discussed a brief excerpt of Kwame Anthony Appiah's section from The Examined Life.  This served to define more clearly what, exactly, the cosmopolitan element of "Cosmopolitan Imagination" is.  I prefer to do course introductions this way, setting up expectations for participation and giving students material to think about as soon as they enter the classroom.
In thinking about how to introduce course concepts effectively I also wanted to do an introduction to WOVEN  concepts that was more than just me lecturing on how the different forms of communication come together in various ways to produce polished final products.  In order to do this, I decided to take advantage of the Student View exhibition currently on display at the Ferst Center for the Arts.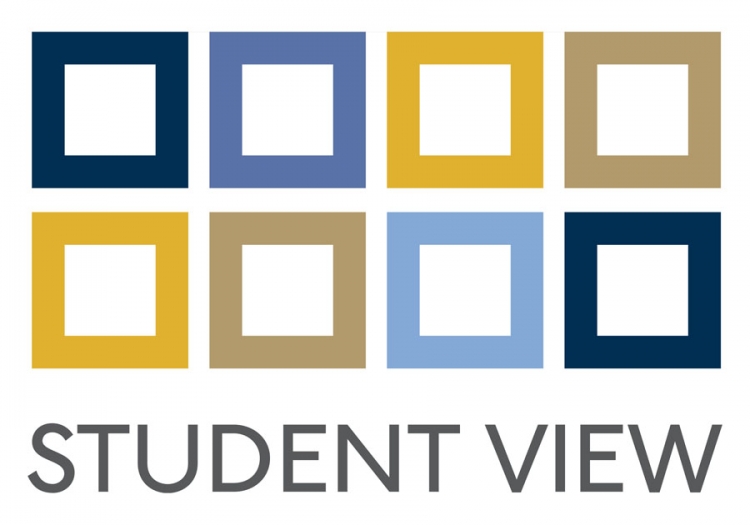 There were several things I liked about this field trip.  First, it got students circulating with their peers.  This allowed them to have conversations and just simply recognize other people who they may not directly interact with very often after they select their desk/table and settle in for the semester.  Students circulated around both gallery spaces, read the artist statements, and discussed the works on display for about 20 minutes.  We then followed their viewing with a discussion about the works and WOVEN communication.
Some works that got consistent mentions by the students as effective forms of visual, written, and electronic communication (we weren't able to see the films at that time):
Dr. John Harkey's students and their QR Space Invader was consistently commented on as a great way to present material about art.  Students used the QR readers to learn more about the piece and commented on how it clearly defined the old (space invader figures) with the new (QR technology).
Dr. Julia Munro's students work on the Cambodian Genocide drew comments on its color choices (black and white with red text), the striking images from the genocide, and the way the piece was displayed.  Students also commented that they learned something from the piece, including just where Cambodia is in the first place.
Dr. Lauren Curtright's students presented a (poster view of) a website on Edgar Allen Poe.  Students felt as though the imagery on the poster really emotionally connected with their knowledge of Poe himself.
Overall, I think the works that are currently on display at the Ferst Center function as an effective introduction to what students are capable of producing when given interesting assignments that ask them to communicate using multiple aspects of WOVEN.  I ended Friday's class with an encouragement to students to make getting a piece into the Student View exhibit next year their goal for the work they do in the class, which added an interesting layer of incentive beyond just the letter grade they'll receive.  Thanks to the LCC committee who put all the hard work in last semester in order to make this show happen!  I encourage everyone to take a field trip over there (and go tonight to see the films!)  Remember to set an appointment though–you don't want to get there and find the place all locked up.
Share articles with your friends or follow us on Twitter!