Introduction
Lakshmi Raju took my 1101 and 1102 courses her freshman year at Georgia Tech. Currently, she is finishing up her junior year at Tech as an Electrical Engineering major and she is an Associate Editor for Physical Sciences, Mathematics, and Engineering at the Journal of Young Investigators. During and after our classes, we stayed in touch and then last Fall during a visit, Dr. Rebecca Burnett—the head of WCP—asked if Lakshmi would write something about what English courses at Tech meant to her. She graciously agreed and below is her response, arguing for why English courses matter so much for engineers. –PB
---
Engineering English
In 2013, I graduated from a performing arts high school in Alabama where my class was 65 students total. Stepping onto campus at Georgia Tech was overwhelming to say the least, with an incoming class of about 2,700 students. My first class—a Chemistry class of more than 300 students—was more than triple the size of my graduating class. I assumed that all of my other classes would be as crowded as this, which I was not looking forward to after being used to a much smaller community.
I was expecting English to be a boring class, just a requirement I had to get through to graduate. However, walking into English 1101 was a relief: it was a small room with about 25 students, which was far more reminiscent of my high school classes. Sure, the class topic, civil rights through the scope of film and TV, didn't initially interest me that much—I am an Electrical Engineering major—but the cozy and welcoming attitude of the class made it my favorite of the day. My professor was Dr. Phoebe Bronstein and it was her first day at Tech too. She made the class interesting with her boundless enthusiasm for teaching and her passion for media and critical race theory. Her interest, bit by bit, imbued me with an everlasting interest in writing.
Over the course of the semester, we were going to do our fair share of writing for the class. We had a few different types of writing assignments on the syllabus to get us through the semester such as blog posts and short essays. At first, the prospect of weekly blog posts was daunting, and felt like busy work, just another thing to add to the ever-growing mountain of work. The first post I wrote was about Fannie Lou Hamer, who fought to become a registered voter in Mississippi. I learned about Hamer, and after a couple posts, I realized their true value – I was able to voice opinions, explore topics I was curious about, and slowly improve my writing, while gaining small tidbits of history. Dr. Bronstein gave us free rein on some posts and I relished the prospect of connecting the civil rights movement with current events. On each post, she gave us feedback on our work, and useful tips for enhancing our writing. I think Dr. Bronstein's willingness to help was what pushed me to be open to writing. Previously, writing was such a daunting task, often taking the form of long research essays in high school. The shorter works in her class, along with ample help, slowly built up to the larger pieces and made writing manageable. As the term progressed, I began to even look forward to writing.
Inspired by 1101, I joined the Entertainment section of Technique, our campus newspaper. When I started writing for the Technique, my first assignment was to review Brooklyn Nine-Nine, a new TV show in Fall 2013. I wrote a rough draft and wasn't sure if it was at all good, so I handed it to Dr. Bronstein, just to see her thoughts on it. What started out as a simple question, developed into mentor-mentee relationship: I would ask her opinion on my work, and what I could to make it even better. Then, I took Dr. Bronstein's section of English 1102, wanting to foster our budding association. Soon, I was in her office every other week, either to talk about something I had written for her class, or have her comment on a piece for the Technique, or just to catch up on shows we were watching and events happening in our lives.
Between 1102 and writing for the Technique, I saw my writing slowly improve and I developed not only an interest in entertainment writing, but writing more broadly. Before long, I had written reviews for Technique on pop culture from Jhumpa Lahiri 's novel The Lowland to TV shows like Cosmos. But, my interest in writing extended beyond pop culture: I wrote a review on Neuroengineering Research at Georgia Tech for The Tower. Then, this year, as a junior, I applied for and was accepted as an Associate Editor for Physical Sciences, Mathematics, and Engineering at the Journal of Young Investigators. Doing the research for my varied writing interests opened so many doors for me and I learned about so many different things, spanning from the realm of pop culture and entertainment to engineering. Writing became a process of thinking and inquiry for me.
For the last three years, I have gained so much knowledge, and started building up confidence in my writing that is all due to Dr. Bronstein. She was, and is, not only a teacher, but a motivator, a friend, and a kind hand that has helped me find my way at Tech. Taking ENGL 1101 and 1102 with Dr. Bronstein led to many of the highlights of my college experience so far. My article review on Thor was the greatest thing I feel I ever wrote for the Technique. By writing about Cosmos, a TV show hosted by Neil deGrasse Tyson, I got to meet him and give him a copy of my article when he visited Tech. Currently, I am an Associate Editor on an International Journal run by Undergraduate students. I will never be able to thank her for the opportunities I gained, by taking her class. I look forward to whatever new opportunities I will be able to seize, due to her endless help, support, and inspiration. I hope to incorporate writing into my career as an Engineer, with just as much enthusiasm as Dr. Bronstein showed us in her classes, every single day.
---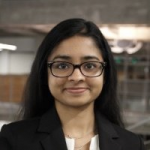 Lakshmi Raju is an Electrical Engineering major at Georgia Tech and Associate Editor for Physical Sciences, Mathematics, and Engineering at the Journal of Young Investigators.
Share articles with your friends or follow us on Twitter!