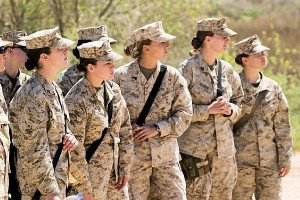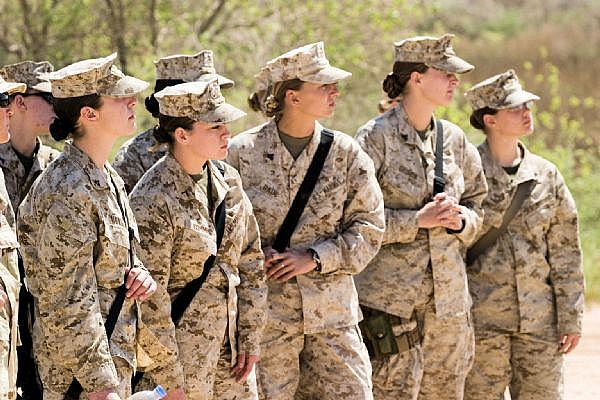 George Packer, in his review in the The New Yorker, "Home Fries: How soldiers write their wars," (April 7, 2014) gives a good overview of contemporary war literature except for the fact that he almost completely disregards one of the most interesting and complex bodies of work by American veterans today – the memoirs, poems, novels, essays, and articles written by women. Packer breezes over women, as the review's only commentary on female veterans reads "For Americans this experience has been an overwhelmingly male one, recorded in literature written by men, but that will change as women – such as Kayla Williams, the author of two Iraq memoirs – go off to combat zones." He proceeds to describe and analyze this male-only tradition with Vonnegut, Hemingway, and Sassoon, and then links these forefathers to their contemporary torchbearers: Kevin Powers, Brian Turner, and Phil Klay. Packer's greatest debt, however, is to Tim O'Brien, the author of The Things They Carried, one of the most widely read books on the Vietnam War.
Just one week prior to the release of Packer's review, the New York Times published an editorial by Cara Hoffman, "The Things She Carried," in which she says that although women have deployed "alongside men for three wars, and since the 1990s a significant number of them and training, fighting, and returning from combat…stories about female veterans are almost absent from our culture." The reason, she explains, is not because "their stories are poorly told. It's that their stories are simply not told in our literature, film, and popular culture." The almost concurrent publications of two articles about female soldiers – one that dismisses them and the other that brings attention to the dismissal – encapsulate the complex silence surrounding the words of these neglected "Warrior Writers," which is the name a Philadelphia-based organization that fosters the writing voices of veterans with a special emphasis on women. Female veterans are writing, but they are neither seen nor heard by audiences including critics like Packer, who focus on tradition and canon.
As writers like Virginia Woolf in "A Room of One's Own" and Alice Walker in "In Search of Our Mother's Gardens" show us, we can discover the genius of women writers from all socioeconomic and racial backgrounds throughout history if we just make the effort to look. But unlike Walker and Woolf, who took on the daunting task of unearthing these scant writers over a period of centuries, we have a few years and plenty of writing to choose from. Next to Kayla Williams, whose experience one woman in the student veterans writing workshop I lead at the Georgia Institute of Technology in Atlanta finds wildly incommensurate with her own, female work on war abounds. Examples include Tracy Crow's Eyes Right: Confessions from a Woman Marine, Jane Blair's Hesitation Kills: A Female Marine's Officer in Iraq, Dr. Heidi Squier Kraft's Rule Number Two: Lessons I Learned in a Combat Hospital, Powder: Writing by Women in the Ranks from Vietnam to Iraq, a collection of poetry, short stories, and essays edited by Lisa Bowden and Shannon Cain. Cara Hoffman's own Be Safe I Love You, while a work of fiction by a non-veteran, gives a well-researched and unflinching account of a female soldier's struggle with PTSD, whose verisimilitude has been heralded by veterans. Kirsten Holmstadt, an expert on women and the military, has written Band of Sisters: American Women at War in Iraq and The Girls Come Marching Home: Stories of Women Warriors from the War in Iraq, two books analyzing the stories of returning female veterans.
The aforementioned works do exactly what Packer so admires in works by contemporary male veteran writers. These female soldiers, as Packer says of men, "who set out to write the story of their war also have to navigate a minefield of clichés," and "like the work of other great war writers" they make "violence inseparable from pity," and are "intensely interested in the return home." In addition, they are incredibly well written.
Let us not bury these women with the male tradition that has already been broken by the military itself with the advent of women in combat. As a teacher of war literature and veteran writing, I believe it is up to us as readers, thinkers, scholars, and writers to shed light on what I see as one of the most dynamic literary voices of our times – the writing of female veterans.
Jennifer Orth-Veillon, Ph.D., Marion L. Brittain Postdoctoral Fellow, Georgia Institute of Technology
Share articles with your friends or follow us on Twitter!