This is the seventh part in a series on the intersections of technical communication in the tech industry and the academy. Read the series introduction here.
Recently the College of Computing and the School of Literature, Media, and Communication (LMC) sponsored the Spring 2019 Computer Science Junior Design Capstone Expo. The expo, which takes place at the end of each fall and spring semester, showcases projects completed by students in the CS Tech Comm Junior Design course sequence, a series of classes taught collaboratively by Tech Comm faculty in LMC and CS instructors in the Division of Computing Instruction (DCI). Expo planning is largely coordinated by the Brittain Fellows who teach LMC 3431 (the second part of the Tech Comm component in the course sequence; the first part is LMC 3432) and members of the Office of Outreach, Enrollment, and Community (OEC) in the College of Computing.
I was delighted to attend the Spring 2019 Expo as an industry judge, and you will find a recap of the event below. However, having helped coordinate the expo in years past, I was also interested in how the planning and coordination process has changed as the event itself has evolved. I was fortunate in that the current event coordinators, Brittain Fellow (and CS Tech Comm Course Coordinator) Amanda Girard and Alyshia Jackson of the College of Computing's OEC, were willing to sit down with me prior to this semester's expo and discuss what it takes to run such an event. Highlights of this interview follow the Spring 2019 Expo recap below.
Spring 2019 Expo Recap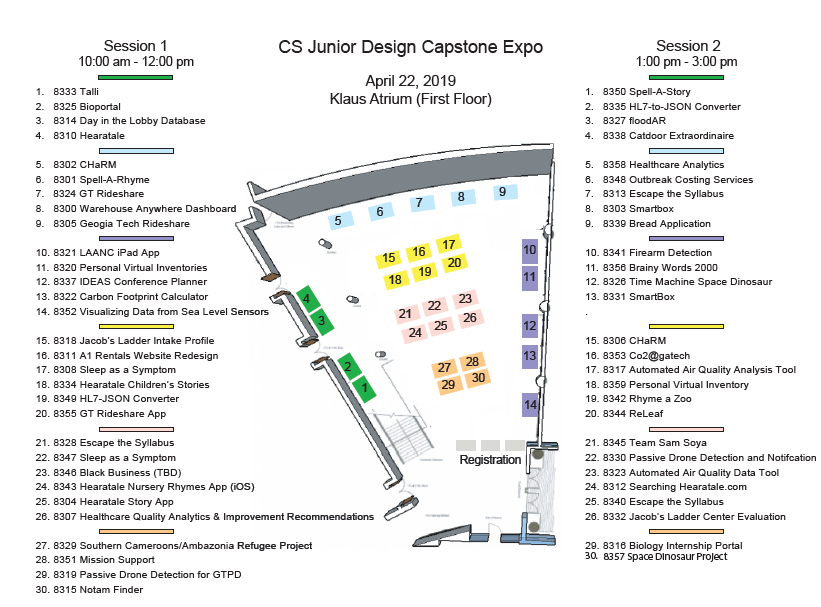 The Spring 2019 Expo featured 57 student teams completing projects for their CS 3312/LMC 3431 courses (the second part in the CS Tech Comm Junior Design course sequence). As in past semesters, the event took place in the first floor atrium of the Klaus Advanced Computing Building, and was divided into morning and afternoon sessions. Student teams were responsible for staffing and staging their team's booth, demonstrating their team's project, and answering questions from expo attendees. The event was well attended, and attendees I spoke to included project clients, course instructors, students currently taking CS 3311/LMC 3432 (the first part of the course sequence), and Georgia Tech faculty and administrators.
This semester the crowd also included a number of industry judges from Microsoft, NCR, and Stryker: companies that participate in the College of Computing's Corporate Affiliates Program (CAP). I was invited to join the judges because of my prior experience teaching in the course sequence and my current position as an industry analyst at RedMonk. Although it was difficult to choose from among the many excellent projects, my fellow judges and I eventually settled on winners for first, second, and third place.
Team 8338 took home first place for the Catdoor Extraordinaire, created for their client (and former Brittain Fellow), Dr. Joy Robinson. As the team's tri-fold brochure explains, they were tasked with building a "smart connected cat-door that leverages computer vision" in order to control animal access to the pet door. The team demonstrated a working interactive prototype at the expo, using images of cat, dog, and (what appeared to be) direwolf faces to demonstrate the app's features.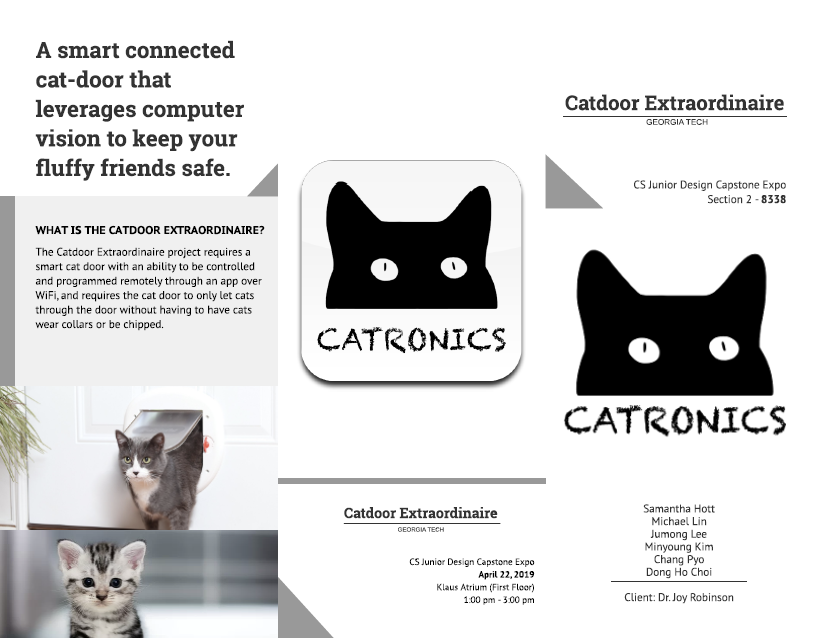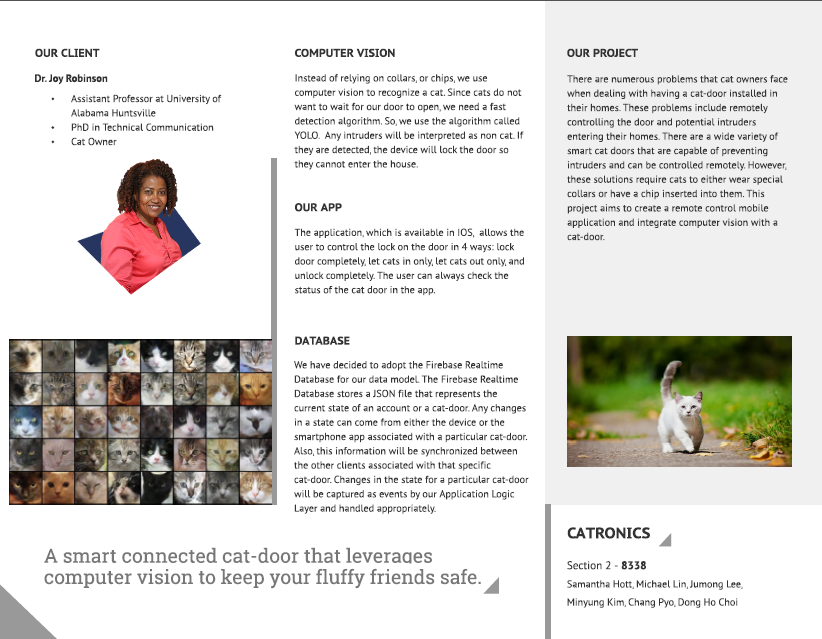 Team 8319 earned second place with their Passive Drone Detection app, developed for the Georgia Tech Police Department (a regular and excellent CS Junior Design project sponsor).
Although building regulations prevented Team 8319 from demonstrating their work on a live drone, their table staging included an informative poster and software demo.
Third place went to Team 8321, who developed a Low Altitude Authorization and Notification Capability (LAANC) iPad app for their client, Honeywell. As noted in the flyer the team created to distribute to expo attendees, this app allows drone users to more easily submit flight plans to the FAA for approval.
Many of the other 54 remaining projects received votes from the judges, which speaks to the overall quality of the projects showcased during the event as well as to the strength of the table staging and staffing. I managed to get photos (with the permission of the student teams) of some of the projects that I thought excelled at the table staging component of the assignment. I include these images (along with photos of some of the Georgia Tech faculty and staff I ran into) in the next section alongside my interview with the 2019 Spring Expo coordinators.
Expo Planning & Sustainability: an Interview Amanda Girard and Alyshia Jackson
KellyAnn Fitzpatrick (KF): Starting off, can each of you briefly introduce yourself and tell us about your role at Georgia Tech.
Alyshia Jackson (AJ): I'm Alyshia Jackson, and I work in the Office of Outreach, Enrollment, and Community (OEC) here in the College of Computing. I am the Administrative Manager for this office and also I assist the Assistant Dean of the College of Computing, and the Director of Constellations, the Center for Equity in Computing.
KF: That's a lot of jobs rolled into one.
AJ: Two departments.
Amanda Girard (AG): I'm Amanda Girard and I am a Marion L. Brittain Postdoctoral Fellow here at Georgia Tech. So currently in that role I teach several sections of the collaborative Computer Science and Technical Communication courses—LMC 3431 and LMC 3432—as well as coordinate the Technical Communication and Computer Science initiative by working with many of the faculty as well as working on things like the Spring 2019 Expo.
"How are we going to plan this huge event?": Building an Expo

KF: And the Expo is what we're here to talk about today. We'll start with you, Alyshia. So, you were in on the creation of the CS Junior Design Capstone Expo from the very beginning with me and Sarah Laiola. What was it like to be responsible for building an event like that from scratch?
AJ: It was exciting and nerve-wracking at the same time. But since we do a career fair here in the College of Computing and the setup is typically the same, it just was all about downscaling from how big a career fair is to just using the structure to go with for the Junior Design Expo.
KF: Which was fantastic because while Sarah and I were like "How are we going to plan this huge event?" you were like "This is a small event."
AJ: Yes, so we just took out all the fluff that we usually use for all our recruiters from different companies, and then just used that base. It was exciting.
KF: From your perspective, how does the Expo event fit in with other events at Georgia Tech more generally or the College of Computing specifically?
AJ: I think it fits really well. I know that there is another expo on campus. This one is a little bit smaller, but hopefully we can get as big as they other expo on campus. As far as the College of Computing events go, our office does a lot of those events for our students, so I think it fits right in line with that: catering to the CS and CM students.
KF: Jumping over to you, Amanda. You attended your first Expo as an LMC 3432 instructor as opposed to an organizer. What was your impression of the event the first time you were there?
AG: I think it's an important event to give students the opportunity to showcase their work to a different audience. They've presented to the class before, but having an expo that's public-facing lets the students showcase that work. I hadn't taught 3431 yet, so it also gave me a glimpse into what teaching the second part of this two-semester course series might be like, and what the students actually come up with as opposed to at the end of part one of the course they code very minimally and do a lot of research. I think it was important to my development teaching the courses because it gave me a broader understanding of these projects.
KF: Me too, and I had taught the course before! Seeing all the projects together was definitely a good experience. So, Amanda, as Sarah and I moved out to other jobs—and we still have Alyshia here, so we have her expertise, which is key—you have taken on more of the LMC side of the planning and organization of the Expo. How has that transition been for you?
AG: I think a lot of that groundwork was already set. I do think we are in a foundational stage with the Expo. It's up and running; making it not only an ingrained part of the curriculum but also an ingrained part of the College of Computing campus culture is next steps. And making it even more public facing, getting even more advertising out there about it so that maybe we're attracting new clients or people that could be potential clients.
Companies might be coming to it to see what we can do. And then growing from there. Having companies interested in judging. Having companies interested in spending money on prizes for the Expo and things of that nature are definitely next steps. I think that client attraction is something that this course has struggled with because it is relying on one or two people to really network. I think that this is a great opportunity to attract clients really quickly all in one spot, because they can see what the students are doing. But in order to do that it needs more advertising. We're still in a very foundational stage, but we're developing, and that's important.
AJ: I completely agree with Amanda, but the thing that I like about how we've been able to work together is that we've added something new with each semester. Something that I really like about this semester is that we have invited a company to judge their favorite, or however Amanda and Megan (Michel), who is our event coordinator here for our CAP companies, decide that. I've also talked to our communications department and they are fully onboard with helping with the communications side for more advertising for this event and all of the events we do in the College of Computing. So that should be helpful.
"A life lesson that they can really use": on Failure and Adaptation

AG: We've definitely taken this from the ground up. You (Kelly) and Sarah, you didn't have a budget, you didn't have anything, and you were like "How can we do this as cheaply and as effectively as possible?" And I think that there are different models on campus. I know that the engineering department, their model for this type of client-based course involves payment from clients, and their expo is quite different from ours. The delivery is quite different. And we're giving our students a different experience from that. We're giving them a workplace perspective, and if they happen to not produce the prototype up to a client's standard, because our clients are not paying them, we're giving them the opportunity to maybe fail at what the client wants but also to succeed. Because even though this might be perceived as a failure by that client, they are going through this experience that mimics industry in all of these ways. So our expo model is different than engineering for these reasons. At the same time we've done that purposefully to give our students an opportunity to fail, which a lot of students don't get. They just get shoved out the door, and when they fail the hardship in life is much more difficult than getting a slightly lower grade in the class and an unhappy client. So I think that our expo, thinking about the ways to incorporate clients where we can support a bigger, better expo is definitely our next step.
AJ:  I agree again. It's like a life lesson, and I really like that because our students are so worried going out of the door about the bigger companies and who got the better offer, or what perks they can get.
KF: Or who is going to Silicon Valley.
AJ: Yes, and this offers them a way to say "Hey, everything won't always be about money or the biggest, shiniest, newest thing." It'll be a life lesson that they can really use.
AG: And they are promoting themselves and their work in a way that they're not used to. And that's really important when students do go out on the job market, or in their future roles. Maybe they are at an industry expo and they are the tech person behind the booth, but they've had this opportunity to learn that interaction. They've had this opportunity to also present themselves and their work in a way that's almost portfolio-esque, and that's really helpful when they are on the job market. Let's face it; half the time you're selling yourself.
AJ: The communication part is key. I think you had a story the last time we had a meeting about students not being able to communicate with the company what the steps were behind the project instead of just sitting behind their computer. And I find that a lot of the projects they have in their classes are all about getting the A and getting the grade instead of being the human behind the machine. So I like that.
KF: What you said about learning how to fail fits really well with the model upon which the class is designed: the iterative, agile approach that requires teams to adapt. Since moving to my new job in industry, I have heard a lot of buzz around concepts like observability and just culture, which are important because products break or manifest bugs in production. What we are seeing more and more is that the industry's approach to software development is understanding that there are going to be failures and breakages, and so you need organizational processes that allow developers to adjust. So I think what you are doing here is excellent.
AG: It gives students the opportunity to learn new ways and have those scary conversations with their client or their instructors. These are difficult conversations to have for regular adult people who have already worked for years, and these students—speaking of communication—are learning to have those conversations. That makes them better workers and better developers.
AJ: I wish I had that in school.
AG: Exactly!
AJ: More of an HR-geared course on how to deal with conversations about projects.
AG: And then they go out into the workplace, hopefully with less fear, less anxiety. Hopefully they are better armed to handle these things. They have support here; they can come to their instructors, who are their advocates, and say "Look, this is what's going wrong and now the client wants all these other features and there's all this scope creep. What do we do?" This is an opportunity for them to learn communication, learn tools, and move forward with their project in a new and different way. Hopefully to have an MVP (Minimum Viable Product) by the Expo. But some are better than others.
KF: Or at least the appearance of an MVP by the Expo?
AG: Even discussing judging the Expo, whereas we are excited to have new clients and industry judges, making sure that there's at least some sort of panel approach, or that even the instructors can say something about the judging. We've had voting apps before. There is one this year. It might be good for a "most popular" prize. So we are imagining these awards differently and better this year. But at the same time the part two (LMC 3431/CS 3312) instructors are the students' advocates in so many ways, I think that we know the team that maybe doesn't have the biggest, best prototype because on their third sprint they had to start over. Welcome to Agile. There are things that are uncontrollable about this course.
"Are we going to get stickers?": Marketing a Tech Event

KF: On the topic of uncontrollable things, going back to the Expo. Are there any parts of organizing the Expo that you see as challenging that we have not already covered?
AG: I think whenever you're adding on or starting something new like this that hasn't been done before, obviously there are budgetary challenges.
KF: And all our budget comes from Alyshia's office, the OEC. All of it.
AJ: Budgetary challenges, I don't really run into those because I've built this into my budget. I don't know if I let you both know that, but I built this into my budget. Because I want this to evolve and I want it to get better. The main challenge for me right now is the marketing part. I was really excited about the snack boxes we had last year—you both knew how excited I was.
AG: I put together a LOT of boxes.
AJ: You did, and then I was like "Oh my goodness, they are going right into recycling." So, just thinking about ways to brand. I'm really excited about the way we can do swag and branding materials so that we're remembered..
KF: Are we going to get stickers this time?
AJ: Yes, laptop stickers.
KF: Yes!
AG: Branding and marketing are challenging with anything.
KF: That is why there are people who specialize in branding and marketing.
AG: Like Alyshia said, even getting help—we were putting together those boxes. Whereas there are student workers, their time is supposed to go towards other things.
AJ: As it gets bigger we're going to need help.
AG: We do get TAs who can help, who sometimes assist with teaching these classes. Or the interns from Writing and Communication Program. But to put on a professional expo, it takes whole teams of people in charge of marketing. It takes whole accounting and budgetary teams to figure out where the money is coming from and how much it's going to cost. And we are two people. Obviously it is foundational. We've made a valiant effort. You and Sarah did as well. But it keeps growing, and the idea is for it to keep growing and to get more attention for the College of Computing. Hopefully this helps us find new CS majors. Get new clients. Maybe get more people interested in the College of Computing career fairs. And help CS gain publicity.  We should also be benchmarking what other expos do beyond just this campus. And having an understanding of that. There's so little time for that. And our planning for the initial one, I'm sure there were times you were stressed and it was very rushed. Because we have other obligations on campus as well. Alyshia does, I do. We can't spend the portion of our time necessary to make this expo as important as it should be and reflect Georgia Tech in this professional, purposeful way, unless we have more time. Or more money. Or more people.
"It takes a lot of people to actually make this happen": Stakeholders and Sustainability

KF: On that note: having been in on the initial creation of the Expo, I could not be happier to leave it in your hands because you both do such a wonderful job with it. But to your mind, what are the most important elements and institutional support that would be needed for the continued success of the Expo?
AG: Sustainability of anything from an administrative level is based on the number of stakeholders involved and the ability to pass it off. I think that you and Sarah did an excellent job of maintaining the resources that you did and handing them off. In the liminal position that we're in as Brittain Fellows at Georgia Tech, where our contract is for a maximum of three years, and we're not just teaching our 150 students, we're also organizing things like this and working with co-instructors who are collaborating with us on things like curriculum. And we're also applying to positions (as we're encouraged to do) and we're trying to write journal articles or books and publish at the same time. We're spread pretty thin. I think most full-time Georgia Tech faculty that have worked with us agree that we're valuable resources. We have Ph.D.s. We are working at a tenure-track level, but we are in the forest. We are doing all of these things. And so sustainability for any kind of project, program, curriculum—especially when you have a workforce that has to hand it off—it's very important that you're able to hand it off so it doesn't die when one or two or a few people leave. You have to have multiple stakeholders at multiple institutional levels. This course series is very much that way. There are CS professors that come in and teach it. CS lecturers who come in and teach it and then CS lecturers who don't. Bob (Waters), who started this course series more or less, is retiring this year and handing it off—so that's a big deal—but the ability to make something where you can hand it off to someone else. Working with this office, I think, is pivotal for this Expo. Without the budgetary assistance. Without the support of Cedric Stallworth and his staff, this would not happen.
AJ: What I really like about it is that Cedric is an Assistant Dean. That high-up support has been really amazing.
KF: To clarify, he also teaches the class.
AJ: Yes, he also teaches the class. But I think his title as the Assistant Dean has really helped with the resources.
KF: When we were putting the first Expo together, and Sarah and I were trying to figure out what to do, Amanda said "You need to go talk to Alyshia Jackson," and Amanda introduced us to you. And then magically all the logistics fell into place. At least it seemed like magic to me—I know that it was all your hard work and expertise.
AJ: It's also Cedric. Like the venue itself. Space on campus, the fact that we have been so breezy just getting the Klaus atrium for the event is itself a blessing for me. Because of being a part of the College of Computing and working very closely—even for the career fair—with Stacey Grayson.
KF: They've been great, too, the facilities team over at Klaus. Talk about unsung heroes.
AJ: Yes, with Sunday openings of the doors so that we can set up.
AG: It takes a lot of people to actually make this happen. I think as it grows it will take more and more. Having multiple stakeholders: the Brittain Fellows that teach the course series. The CS lecturers that teach the course series. Monica (Sweat), who is in charge of DCI. Rebecca Burnett and Andy Frazee.
AJ: Communications with helping with the advertising. Resources, people, networking, getting the word out there to other schools about what we're doing. I know we could use insight on the other schools and their expos to add and build. But partnerships are going to be key in keeping this going as well. And as it gets bigger, partnering with more and more people. But I love that we are taking it slow. I really love that part. I think the pace of it has really been a great thing to be a part of.
AG: The first thing about getting stakeholders or making it integral to not just this department or the course series, but the institution, is making it part of the institution. Which means the first people who are attending are at Georgia Tech. They are in engineering, they are in these other departments and they want to see what CS is doing. And that curiosity within the institution is really important because then those other professors or other people that work in other parts of the Institute want to become clients and they're engaging with our students in a new way that they can talk about. And they talk about it with other people and other people get excited, like "How do I become a client for these things?" That's part of word-of-mouth publicity that is going to get our program noticed more.
AJ: Last semester the thing that got me so excited was that the Associate Provost for Academic Effectiveness was a client last year, and she emailed saying "Pretty invitation…They are so well branded and look nice" and I thought that was amazing, that administrators are seeing these things, and getting it out to more and more people is amazing. I really like that.
AG: That's how sustainability happens. Those stakeholders at multiple levels.
AJ: There's a need everywhere for these projects. We already have our hands full with how many teams we have and how many projects we can take on, but there's a huge need for it because we have students who want to volunteer sometimes for certain things and we can't always let them, but there's a huge need in Outreach in general.
KF: Thank you both so much for taking the time to speak with me today. I am looking forward to the Spring Expo (and I plan to liberate a whole bunch of stickers).
Note for Potential Project Clients

With up to 60 student teams beginning new computer science projects each semester, Georgia Tech is always on the lookout for suitable projects and clients. If you have a project that you think might be a good fit and are interested in serving as a project client for one or more student teams, please contact Olufisayo Omojokun at omojokun@cc.gatech.edu.
Note: A version of this article has also been published on KellyAnn's RedMonk blog.
Share articles with your friends or follow us on Twitter!