What is Student View?  Student View is an annual, juried exhibit of student work produced in Writing and Communication courses. It is organized by the Writing and Communication Program's Arts Initiatives Committee in conjunction with the Office of the Arts. In 2015, it will run the length of the Tech Arts Festival, from February 18th to March 7th, and will be installed in the Ferst Center galleries.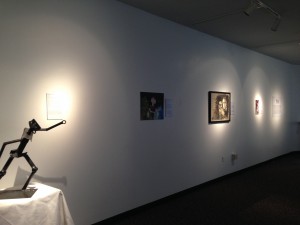 In the coming weeks, we will begin soliciting nominations of outstanding student work for consideration for the Student View exhibit. Submissions will be due in early January, with a specific deadline to be announced shortly. So, until then, be thinking about what student work you would like to submit. Every faculty member may submit up to 5 artifacts.
 Is this an art show then?  Not exactly. That is to say, artifacts that are exhibited as a part of Student View do not have to be intentionally created as art. We acknowledge in the exhibit panels and brochure that these artifacts are class assignments and products of courses in multimodal composition. Student View, in fact, is designed to raise questions about the intersection between multimodal composition and communication and art and about who creates art. Generally speaking, creative and effective multimodal artifacts that have been gone through an extensive revision process during your course are also appropriate for the gallery setting.
In the past, Student View has included artifacts such as sculptures, paintings and sketches, computer-generated graphics, videos, recorded readings and performances, posters, book covers, photography, web-based projects, collages, and photo essays.



Why should I submit a student artifact for consideration? There are many reasons. It is an opportunity for our students' work to have a life and purpose beyond the classroom setting. It is a great opportunity to honor the students who did exceptional work. It is an opportunity to participate in the larger campus community. It provides a public face for the work that is done in Writing and Communication courses.
How do I submit a student artifact? After Thanksgiving, you'll receive an email with a link to a Google Form that you can use to submit your nominations. The deadline for receiving those submissions has not been determined, but will be in early January. We will need the following information at the time of submission:
Artifact (for physical artifact, a photo is fine)
Artist Name
Title of Artifact
Course Information (Number, Name, Professor)
Semester
Media
General dimensions
Permissions
A brief nominating statement
What happens then? Artifacts will be reviewed by a committee that includes members of the Arts Initiatives Committee, Writing and Communication/LMC faculty, and representatives from the Georgia Tech Office of the Arts. Students and the faculty members who nominated them will be contacted if their work is chosen by the committee. At that time, we will gather artists statements from the students and information about the assignment/course from the faculty member (of up to 200 words). Artifacts will also be prepared and formatted for the gallery. Students, friends and family, and faculty will all be invited to an opening reception to celebrate and recognized these students' achievements.
Share articles with your friends or follow us on Twitter!