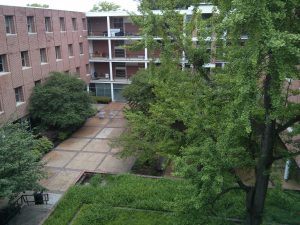 In this episode, Toby and I discuss the Ginkgo Tree in Skiles Courtyard at Georgia Tech (pictured above) before moving on to discuss nostalgia and the work of Marcel Proust, Gérard Genette, Walter Benjamin, and Jörg Zimmer, and once again deferring our conversation about John Cassavetes to a future podcast.
The podcast can be played using the embedded player above or downloaded as an mp3 file.
Music: "The Souls and the Machines," by The Lawrences of Arabia. © Andrew Marzoni and Nathan Bergquist, 2007.
Share articles with your friends or follow us on Twitter!