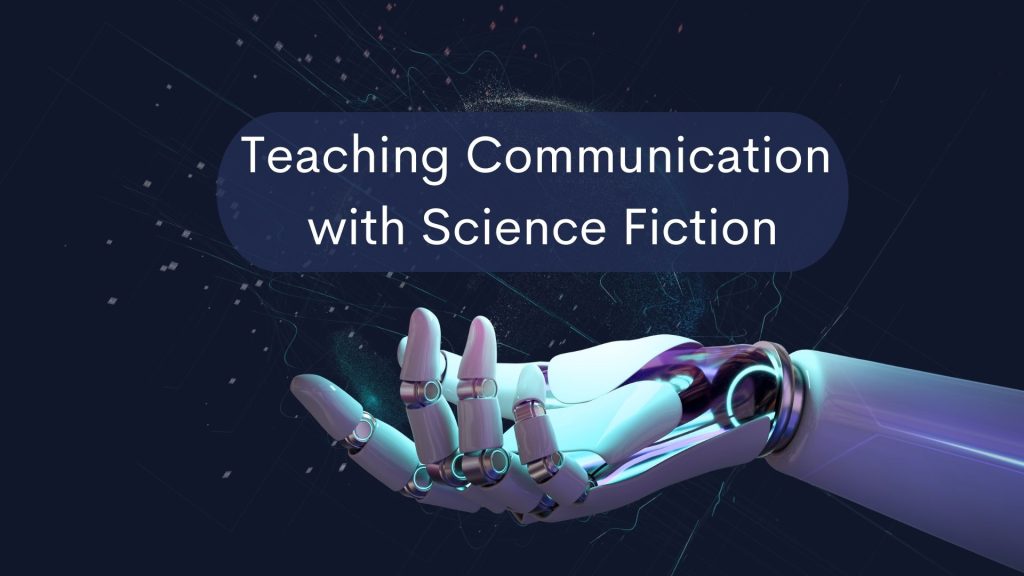 Science Fiction's Potential in the Communications-Classroom
As an instructor who teaches introductory English communication courses (ENGL 1101 and 1102) at the Georgia Institute of Technology, a leading institution in the fields of engineering and computer science, I was confronted by the challenge of engaging STEM majors in the communication course classroom. Since many of the students are required to take an introductory English course, there is a chance that students neglect the value of the course in favor for courses that focus on their specific major. In fact, students often express their frustration of having to enroll in a communication class since it does not seem necessary for their STEM majors. Thus, I made sure to inquire how I can provide a valuable, enjoyable, and engaging learning experience in communication that fascinates students and translates into transferable skills for their individual career paths.
To generate increased interest in the introductory English communications class and to inspire investment of students in the course material, I introduced an ENGL 1102 course with the theme 'Science Fiction Franchises – Exploring Communication Through Popular Intertexts' in the Fall Semester of 2022. The general idea was to build a class with a theme that could be of specific interest to STEM students. As a post 1865- American studies scholar with a special research interest in Science Fiction, I decided to teach an introductory communications course with a focus on Science Fiction franchise cultures and their intertextual intertwinements.
Science Fiction serves as an incredibly appealing and fascinating course theme for science students. The fictional aspect of this genre fills an important gap in STEM inquiries, namely the need to imagine new technologies and futures. I specifically investigate Science Fiction as a genre that could potentially help students and researchers to envision more equitable and inclusive futures. Istvan Csicsery-Ronay explains that SF texts "share a mass social energy, a desire to imagine a collective future for the human species and the world" (1). I similarly observe that SF texts generally entail a critique of societal, political, and economic issues. Additionally, SF texts reflect on our own "historical present" as Fredric Jameson asserts in his work with the telling title Archaeologies of the Future (345). These imaginative narratives offer critical perspectives on sociopolitical and socioeconomic realities, including recent developments in technologies like A.I.. A major in Computer Science who concentrates in Artificial Intelligence (A.I.) could find themselves confronted with fictional explorations of A.I. In turn, these explorations could inform the student's interest and persuasion to make ethically conscious choices and engage in critical thinking in creating new A.I. technologies. In this sense, I regard Science Fiction as a necessary, humanist component for connecting STEM majors with English language, literature, and communication inquiries. Thereby, I promote the English as a relevant and worthwhile subject to engage with.
As I will elaborate, Science Fiction also helps students to study the affordances of a variety of multimodal communication skills and media, including the uses and history of emergent and streaming media, media ethics, and social media. By teaching Science Fiction, I aim to generate public interest in the wider field of English with interdisciplinary teaching practices. As a pop-cultural genre, Science Fiction fascinates and thus retains students while engaging audiences in non-traditional ways, especially due to its emphasis on the integration of fictional futuristic (and often digital) technologies in fiction, which in turn invites creative and scholarly engagement through new media and technologies.
Outlining the Course Goals
In this class, students explore texts from Science Fiction franchises (such as Blade Runner, Dune, Star Wars, or the Marvel Cinematic Universe) to improve their written, oral, visual, electronic, and nonverbal (WOVEN) communication skills while also learning about how Science Fiction appears in a variety of media formats including films, comics, novels, arts, scholarly works and infographics. In class, we talked about remediation and the corporate structures of the Marvel Cinematic Universe while unpacking the pilot of Disney+'s WandaVision (Listen to Brittain Fellows Alex Edwards, Eric Lewis, Josh Cohen, and Corey Goergen talk about WandaVision and the second season of The Mandalorian, and Disney+ here). Additionally, when discussing the comic Blade Runner 2019: Vol. 1 Los Angeles (an adaptation of Ridley Scott's Blade Runner film from 1982), the students analyzed the comic (with close-reading techniques) by identifying key events, characters and themes. This text focuses on the queer, disabled, female protagonist Ash and her role in hunting artificial humans known as replicants (for further reading go here to explore writing about science fiction from faculty and students at Georgia Tech).The students learn to identify the multimodal composing techniques of the comic/graphic novel genre by examining specific pages and panels in depth. Thereby, the larger intellectual process of exploring a Science Fiction franchise text helps them to understand the multimodal properties of comics. Students were able realize the meaning of composition choices including the divisions due to panel borders, that panels in sequence often serve as communication tools, the approach of comics as sequential art and the use of icons to represent ideas. Via this and further Science Fiction texts, this course asks students to consider and engage with the kinds of communication that these franchises undertake.
While exploring the multimodal composition of graphic novels/comics, I also discussed the work's themes of disability and sexual identity with the students. Thereby, exploring LGBTQ+ fiction can help students realize the wide range of diverse representations in fictional examples such as  Blade Runner 2019: Vol 1 Los Angeles. Generally, I believe that the mode of Science Fiction can help us to establish more diverse, equitable and inclusive presents and futures due to the focus of many Science Fiction franchise texts on social inequalities of race, gender, and disability.
Throughout the semester, the students asked questions such as: How do these texts transform as they are adapted for new audiences, media, and societies? How do these franchises envision more equitable, diverse futures? Why are consumers so intrigued by their narratives? This course focuses on the possibility of the Science Fiction franchises to connect us as thinkers, writers, and communicators. Additionally, the students learn to understand the multimodal aspects of these franchises and the audiences that consume them.
Interlinking Technical Majors and Science Fiction
During the first days of Fall 2022, many of my students reacted with surprise and excitement as they found out that they signed up for a communication class that had a Science Fiction theme. I was immediately struck by the students' passion for Science Fiction. As the course's first assignment, the students had to create a video in which they introduced themselves, and address which communication skill they anticipated to be a challenge in the semester. Additionally, I asked them to talk about their interest in Science Fiction and their familiarity with works of the genre. Many of them proclaimed Christopher Nolan's Interstellar (2014) as one of their favorite Science Fiction movies. I began to wonder whether the students' passion for the film and their interests to pursue careers in the fields such as nuclear engineering or computer science could be tied to an initial exposure to futurist technologies in Science Fiction works. The sound effects of a franchise such as Star Wars can inspire young adults to become sound engineers, while a novel like The Giver's (by Lois Lowery, 1993) theme of geronticide speak to biology majors. One of the beauties of Science Fiction is its large appeal to a variety of audiences, ranging from Afrofuturist settings like Black Panther's (2018) Wakanda to techno-orientalist spaces like Blade Runner's (1982) Los Angeles or Dune's (1965) desert planet Arrakis that invites ecofeminist analyses. Science Fiction can thereby be vehicle to teach students in the time of the Anthropocene, as Kent Linthicum elaborates.
Many students connected a communications class with reading and discussing English literature classics such F Scott Fitzgerald's The Great Gatsby (1925) or plays by William Shakespeare. In one of their Multimodal Reflection Portfolios, one student expressed their frustration at "missing out on different genres" prior to the class. Thus, they were unaware that there were so many other texts and genres to explore. STEM students indicated in evaluations for my classes that they often struggle with English or communication courses because the assignments ask students to develop persuasive arguments instead of solve mathematical equations. Instead of one solution, students can approach an essay, a presentation, or the creation of an infographic with a variety of creative approaches that not only test their knowledge of a language but also less tangible concepts such as the appropriateness of their tone in terms of their audience. Another student enjoyed the opportunity of the safe space of an English class to express their creativity and views and reveled "in the fact that there is never one right answer." Throughout the semester, I tried to encourage the ability of the students to express their relevant viewpoints through various forms of communication.
The Creation of a Science Fiction Infographic
One example of these forms of communication is an infographic assignment. For this assignment, I ask the students to create a digital infographic with the website Canva. One of the main objectives of this artifact is to inform an audience on an issue related to a major Science Fiction franchise text. This text could be a movie, novel, television show or episode, graphic novel, or video game. As a visual genre that is becoming more and more popular in film and television adaptations, the Science Fiction genre lends itself to the creation of a visual-forward assignment like an infographic.
One of the goals of this assignment is to help students develop their visual communication skills by creating an electronic poster in the form of an infographic. With a balance of written text and visual images, this infographic should explore how one Science Fiction franchise intertext discusses an interesting issue (i.e. Mental Health Awareness in Modern Men through Iron Man). Additionally, this project requires some web-based and/or library research to select the information (in the form of visuals, texts, and data) they want to include in their final infographic. I required the students to find three sources, one from a peer-reviewed scholarly source, two from popular sources, including one from a renowned national newspaper such as The Washington Post or the New York Times. To create this assignment, the students learned to navigate the mostly open-access software website Canva. When creating the infographic, students considered its rhetorical strategies and visual elements (i.e. information, composition, color, and text/font choices) and who its potential audience could be.
In preparation for this assignment, we visited the Science Fiction Archives, one of the largest collections of science fiction and fantasy novels and periodicals in the country. Many students expressed their joy in holding and reading through physical copies of texts that we discussed in class, including the first edition of Frank Herbert's Dune. Combining the visit with the creation of a digital assignment proved especially fruitful. The library visit served as an inspiration for their Infographics since they were able to have a closer look at Science Fiction fan art in so-called 'Fanzines.'
Additionally, students attended further library workshops on the use of Canva. After drafting the poster with the help of the software, I asked students to share their drafts in an online discussion forum on the Learning Management Software Canvas. The students then undertook a peer-review activity with an infographic group pitch in class. In this exercise, students present their infographic drafts and ideas to each other in groups of four. I designate this as a 'low-stakes' activity since the students know their group members and could be more comfortable sharing their insights and ideas in a small group setting  instead of presenting the infographic draft in front of the whole class. One of the goals of this student-centered activity is to engage all students in the class and to make the exchange of ideas feel less of a chore and more of a respectful conversation between peers.
Ultimately, the infographic proved to be a great success since the students could combine their interests in technical subjects and Science Fiction. I was surprised by the technical knowledge of the students and their attention to detail when elaborating on issues related to Science Fiction franchises. For instance, one student made an infographic on the technical workings and differences of 'Sound Effects in Star Wars.' Additionally, their commitment to address racial, gender, and mental health inequalities in works of Science Fiction really stood out to me. For instance, one student created an infographic on 'Mental Health Awareness in Modern Men through Iron Man.' Not only did the student address this topic successfully, but they also added campus resources in case students experienced real mental health struggles. Since Georgia Tech students are under a lot of pressure and often face mental health crises, it is valuable to see them make these through Science Fiction in my class.
The Intellectual Successes of Science Fiction
Throughout the semester all of the students participated very well in class and fulfilled all of the assignments successfully. I attribute a large part of the success of the class to the special focus of Science Fiction. Additionally, Science Fiction also aided me in being an enthusiastic instructor, an attitude that translates to the students and inspires them to participate actively in class. Science Fiction as a vehicle to read a variety of texts in different types of media can connect students in a transdisciplinary manner. For instance, by engaging with a comic like Blade Runner 2019: Los Angeles, students can discuss the ethical issues surrounding artificial intelligence, questions that they can in turn apply to their work ethic as computer scientists. Moreover, texts such as Octavia Butler's The Parable of the Sower (1993) invites engagements with themes of social inequalities and climate change. Discussions surrounding these texts can evoke the responsibilities to design sustainable technologies while keeping ethical questions in mind.
Works Cited
Csicsery-Ronay, Istvan. The Seven Beauties of Science Fiction. Wesleyan University Press, 2011.
Jameson, Fredric. Archaeologies of the Future: The Desire Called Utopia and Other Science Fictions. Verso, 2005.
Share articles with your friends or follow us on Twitter!